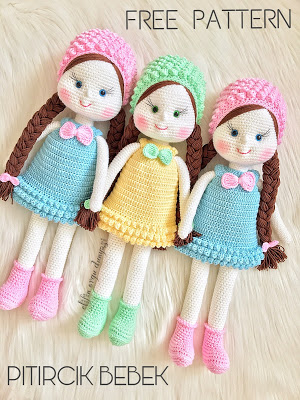 Amigurumi Patties Doll Making
White thread: Nako diamond
Colored threads: Alize cotton gold and Snowball natural (cotton)
Abbreviations:
mr: Magic Ring
sc: tight needle
inc: increase
dec: decrease (decrease)
*: repeat
p: patty
blo: sink into the back loop
o: sink into the front loop ..
HEAD
With white rope
6sc into the magic ring
2.6inc (12)
(1sc, 1inc) * 6 (18)
(2sc, 1inc) * 6 (24)
(3sc, 1inc) * 6 (30)
(4sc, 1inc) * 6 (36)
(5sc, 1inc) * 6 (42)
(6sc, 1inc) * 6 (48)
(7sc, 1inc) * 6 (54)
10-18. (54)
19.13sc, (1sc, 1inc) * 5, 7sc (1sc1inc) * 5, 14sc (64) (we increase 5 loops from the cheeks)
20-24. (64sc)
25.13sc, (1sc, 1dec) * 5, 7sc (1sc, 1dec) * 5, 14sc (54)
(7sc, 1dec) * 6 (48)
(6sc, 1dec) * 6 (42)
(5sc, 1dec) * 6 (36)
(4sc, 1dec) * 6 (30)
(3sc, 1dec) * 6 (24) done.
(Wear eyes with 8 stitches in 17th and 18th rows)
Sew the hair to the head as it looks outside the hat. We make two separate braids and sew them to the head.
HAT
1.We combine mr 10sc
2.5p 5sc (5pink)
3.We pull 1 chain 20sc
4.10p 10sc (10p)
5.We pull 1 chain 30sc
6.15p 15sc (15 pips)
7.We pull 1 chain 40sc
8.20p 20sc (20p) pelargonium) 9. We pull 1 chain 50sc
10.25p 20sc (25)
11-14. without increasing (by making tight needles between them) (25 pıtırcık)
15-16. 50sc (we finish with two rows of frequent needles and sew on the head)
SHOES, LEGGINGS AND BODY
With colored rope;
Pull 12 chains into the second loop;
1inch, 9sc, 1inc, 9sc (22sc) (attach loop holder to the last loop)
(1a) * 2, 9sc, (1inc) * 2, 9sc (26)
(1sc, 1sc) * 2,9sc, (1sc, 1deri) * 2,9sc (30)
(2sc, 1inc) * 2, 9sc, (2sc, 1 inc) * 2, 9sc (34)
5.We knit 1 row to make cc
6.We knit this row as blo (34sc)
7-8. (34x)
9.13x, (1x, 1second) * 2, 1x, 2second, (1x, 1second) * 2, 4x (28x)
10.13x, 6e, 3x (22x)
11.12x, 4e, 2x (18x)
11x, 3x, 1x (15x)
13-14-15-16. (15x)
17.5x, we go back with 1 chain and knit CC (password) (15)
we knit as it (15) the shoe is finished ..
We add blo making shoe with white rope for the leg (15sc)
We knit legs with 40 rows of white, filling a head bead (15sc)
After knitting the other leg, we pull 3 chains and join them. We knit including three chains (36sc) without increasing or decreasing it ,, 24
After knitting a row of body, we knit (1sc, 1dec) until it is 20 sc (20sc) (
White power cord between neck and head
you can bend it, wrap it with rope and put it so that your head does not fall)
We knit 4 rows of neck and sew it to the head … ..
ARMS
1.5sc into mr
Always double (10x)
3-28 10x. we do it and sew it to the body.
DRESS
1.We pull 40 chains
2.We make 38 double handrails
3.We make 1 more row 38 handrails
4.We pull two chains, pull 5 handrails, 8 chains and sink into the 9th slot and knit 12 handrails, again pulling 8 chains to the 9th slot
we knit 5 rails.
We make a handrail on every loop, including the top of the 5th chains.
6.We knit the handrail as 1 pair, 1 single in the other loops except for the arm and increase it 12 rows (according to your baby's height)
We continue without decreasing.
When it comes to the end of the skirt, we turn it over and knit 3 rows of popcorn .