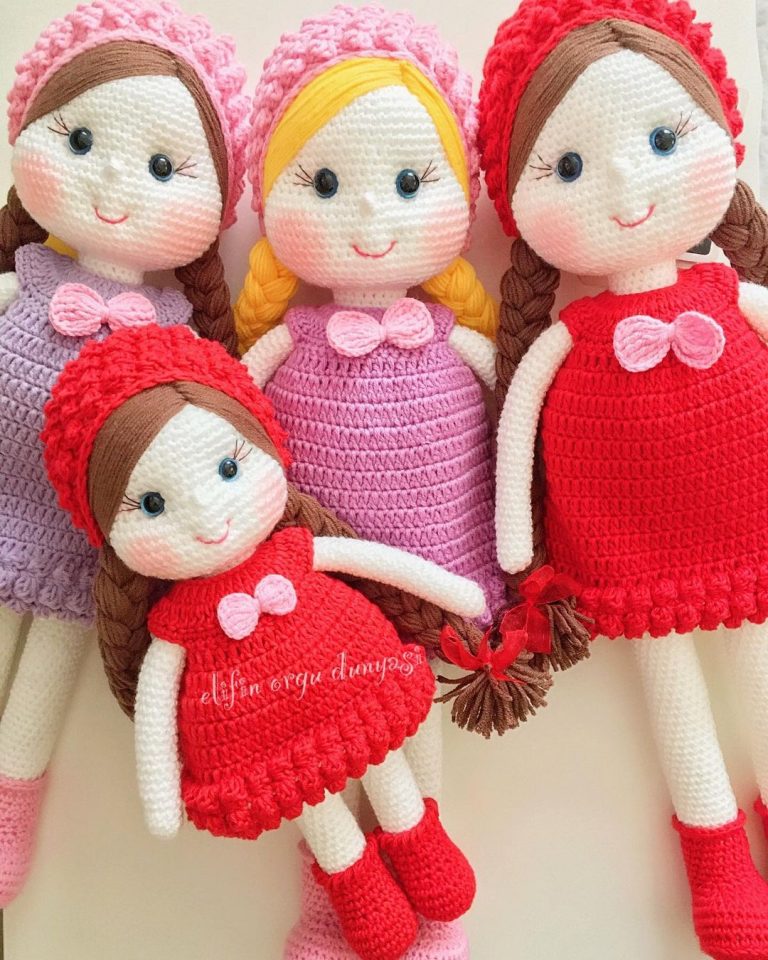 Making Amigurumi with Patties Baby Recipe
Materials and Abbreviations Used
Materials
White: Nako Diamond
Color: Alize
Crochet (2.00 – 2.20 – 2.50)
Bead fiber
Sewing needle
Safety Eye 8-10mm
Restrictions
mr = magic ring
O (ch) = Chain
inc = binary increment
W = Triple Increase
dec = Double Decrement
M = Triple Decrement
C (CC) = Stitch shift
(SC) = Sc
BLO = Knitting by sinking into the thread at the back of the loop
FLO = Knitting by sinking into the thread in front of the loop
T (HDC) = Single Handrail
F (DC) = Double Handrail
F (TR) = Triple Handrail
VHDC = 2 HDCs in the same Hole / location
VDC = 2 DC to the same hole / ground
Color Change
Finishing
Head Making
We will knit the head of our baby patty with white thread
6sc into the magic ring
2.6inc (12)
(1sc, 1inc) * 6 (18)
(2sc, 1inc) * 6 (24)
(3sc, 1inc) * 6 (30)
(4sc, 1inc) * 6 (36)
(5sc, 1inc) * 6 (42)
(6sc, 1inc) * 6 (48)
(7sc, 1inc) * 6 (54)
10-18. (54)
19.13sc, (1sc, 1inc) * 5, 7sc (1sc1inc) * 5, 13sc (64) (we increase 5 loops from the cheeks)
20-24. (64sc)
25.13sc, (1sc, 1dec) * 5, 7sc (1sc, 1dec) * 5, 14sc (54)
(7sc, 1dec) * 6 (48)
(6sc, 1dec) * 6 (42)
(5sc, 1dec) * 6 (36)
(4sc, 1dec) * 6 (30)
(3sc, 1dec) * 6 (24) done.
(Wear eyes with 8 stitches in 17th and 18th rows)
Sew the hair to the head as it looks outside the hat. We make two separate braids and sew them to the head.
Hat Making
1.We unite mr 10sc
2.5p 5sc (5pink)
3.We pull 1 chain 20sc
4.10p 10sc (10p)
5.We pull 1 chain 30sc
6.15p 15sc (15 pips)
7.We pull 1 chain 40sc
8.20p 20sc (20p) pelargonium)
9.We pull 1 chain 50sc
10.25p 20sc (25)
11/14. without increasing (25pıtırcık)
15/16. 50sc (we finish with two rows of frequent needles and sew on the head)
Foot, Leg and Body Making
We start with colored rope;
Pull 12 chains into the second loop; 1inc, 9 sc, 1inc, 9sc (22sc)
(1inc) * 2, 9sc, (1inc) * 2, 9sc (26)
(1sc, 1inc) * 2, 9sc, (1sc, 1inc) * 2, 9sc (30)
(2sc, 1inc) * 2, 9sc, (2sc, 1inc) * 2, 9sc (34)
5.We knit by making 1 row cc (loop shift)
6.We knit this row as blo (34sc)
7/8. (34sc)
13sc, (1sc, 1dec) * 2, 1sc, 2dec, (1sc, 1dec) * 2, 4sc (28sc)
10.13sc, 6dec, 3sc (22sc)
11.12sc, 4dec, 2sc (18sc)
12.11sc, 3dec, 1sc (15sc)
13/16. (15sc)
17.5sc, with 1 chain we go back and knit CC (scroll) (15)
We knit as flo (15) shoes are finished ..
We add to the shoe by making blo with white rope for the leg (15sc)
We knit legs with 40 rows of white by filling the bead fiber from one side (15sc)
After knitting on the other leg, we pull 3 chains and join them. We knit including three chains (36sc) without any increase or decrease, after knitting 24 rows of body, we knit until 20 sc in the form of (1sc, 1dec) (20sc) ((You can twist the white electric cable between the neck and the head, wrap it with a rope to prevent the head from falling))
We knit 4 rows of neck and sew it to the head.
Making the arms
1.5sc into mr
2.Always double (10sc)
3-28 10sc. we do it and sew it to the body ..
Dress Making
1.We pull 40 chains
2.We make 38 double handrails
3.We make 1 more row 38 handrails
4.We pull two chains, pull 5 handrails, 8 chains, we sink into the 9th slot and we knit 11 handrails, again 8 chains
by pulling it, we sink into the 9th slot and knit 5 handrails.
We make a handrail on each loop, including the top of the 5th chains.
6.We knit 1 pair and 1 single in the loops except the arm and knit a railing.
We continue to increase or decrease 12 rows (according to the height of your baby).
When it comes to the end of the skirt, turn it over and
We knit 3 rows of patter.